History of Shinkyogoku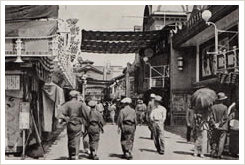 Kyoto's Shinkyogoku shopping arcade is the second oldest shopping strip after Asakusa Nakamise in Tokyo which established in 1872. Since Shinkyogoku's establishment, it was renowned for its many performing arts facilities that lined the arcade such as comedy halls and show theatres, almost like New York's Broadway. Along with the debut of movie entertainment, the performing arts halls soon became movie theatres solely to project films instead of plays. Downtown Kyoto became "The City of Movie Watching" which kept Shinkyogoku a lively movie entertainment district that attracted widespread popularity to people around neighboring prefectures as well. Restaurants and souvenir shops multiplied around the theatres which attracted even more visitors.
Post 1970, along with the downturn of the movie industry, the number of movie theatres substantially decreased. Kyoto city transitioned from being "The City of Movie Watching" to "The City of Souvenirs" as it turned its attention to target tourism; domestic and overseas visitors.
Not only local specialties such as Japanese sweets and pickles, but T-shirts and Kimono are popular souvenir choices among foreign tourists. Shinkyogoku shopping arcade is the perfect place to find that perfect souvenir! Moreover, you can also find plenty of eateries such as sushi bars, unagi, soba, udon and other Japanese cuisine restaurants, western food, coffee houses and more! A range of clothing boutiques and accessory shops for the younger crowd and various specialty stores selling eyeglasses, knives and swords, cosmetics, etc. Window shopping or not, enjoy a fun-filled day for all!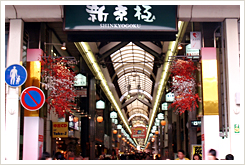 Another attraction of Shinkyogoku shopping arcade are the 7 temples and 1 shrine that are situated along the strip. Each temple and shrine having its own intriguing history and story which draws many visitors from all over the world. One step into the tranquil precincts of the temple or shrine will instantaneously make you forget where you are and the lively atmosphere outside. A visit to one these temples is surely recommended when you are in Shinkyogoku.
Located in the centralized commercial district of downtown Kyoto (Shijo Kawaramachi Area), Shinkyogku Shopping arcade stretches 500 meters long. Depending on each shops closed days, over 90% of the shops are open for business from 11:00am to 9:00pm.
We look forward to your visit!
Shinkyogoku Authority and Staff